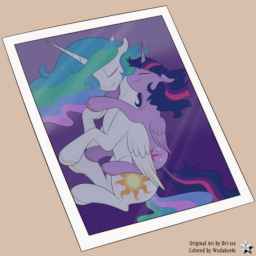 Source
Twilight Sparkle and Celestia are seeing one another.
They both want it - happiness, to share in their moments, trials and tribulations, all of it, no matter the changes that come.
Now they just have to tell the parents. It should be simple enough.
But a lot of things are simple at first.
My extra special, somewhat belated thanks go to friends Tired Old Man and Vylon for much editing, and additional thanks to Tired Old Man for penning the wonderful title description above. You guys are great, you really are.
Chapters (1)