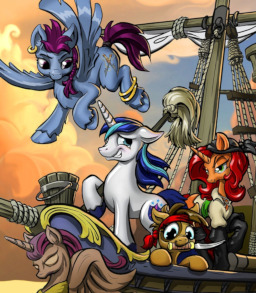 A familiar Captain of the Guard finds himself dredged out of the ocean and into the dubious company of totally-not-pirates.
He doesn't remember who he is, and he's not entirely sure he likes the looks the all-mare crew is giving him. Cadence is certainly not going to be happy about that when she catches up with him.
He might have been better off in the water after all.
NEW! Cover image from the awesome and talented Harwick
Seriously go look at Harwick's stuff it's Really Pretty!
Chapters (43)