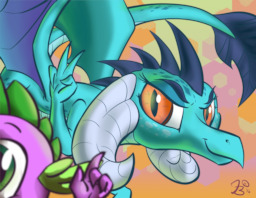 Source
Spike was the strangest of dragons, living his charmed life so far removed from his heritage. Knowing so much. How to be a good friend. How to be a hero.
How to have fun.
But actually being a dragon? Not so much. Barely at all, really.
Ember didn't know what to make of her friendship with the little drake, but she did know two things. Spike needed a teacher, a proper dragon teacher, to show him the way.
And second, that this was going to be fun.
Chapters (1)