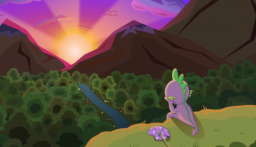 Source
I don't go on a lot of adventures, not unless I'm with my friends. Still, when Princess Celestia showed up and told me I had a once-in-a-lifetime chance to meet one of my dragon parents, how could I say no?
If I'd known what I was going to find, I might have…
Takes place shortly after Princess Twilight Sparkle.
---
Featured on Equestria Daily
Edited by Themaskedferret, docontra, and Pascoite
Special thanks to bookplayer for brainstorming help.
Chapters (9)