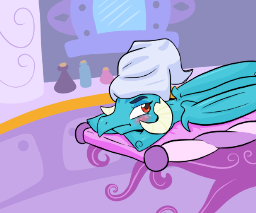 Becoming Dragon Lord has brought a wave of new responsibilities for Ember, none of which she enjoys. The first of these tasks are the formal negotiations with Equestria, which will either formalize peace between the two nations or else be the start of a deadly war. She's pretty sure it's going to be the former, but if she has to sit through another awful meeting, she may change her mind.
Spike offers her an alternative: visit the spa.
---
Written as a minific commission by Vilken666 on my Patreon. Fluff isn't really my genre, but I took my best crack at it anyway. This was the result. Credit for the fantastic cover goes to Zutcha, as usual.
Chapters (3)