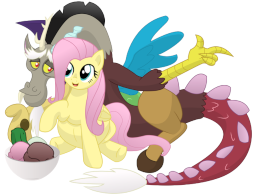 Source
This story is a sequel to Pound My Pumpkin
---
Part of the "Pound My Pumpkin" expanded universe.
Fluttershy was Discord's first friend in his entire life. When nopony else was willing to give him a chance, she was determined to find the good inside him, the good even he doubted was there, and she found it. She awoke him to goodness, and taught the embodiment of Chaos what it meant to live in Harmony. But such lessons don't happen in a single day. Some take a lifetime.
Over time, both began to realize it was more than that. Discord was always coming back to see Fluttershy, spending time with her more than anyone else. It was obvious that, before long, something special would brew.
But things aren't as simple as either might wish. One is Harmony, the Element of Kindness. The other is the Spirit of Chaos. Can they make what they have work? Or will the difference in their natures be too drastic?
Chapters (9)