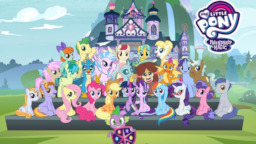 Source
This story is a sequel to My Little Pony Friendship is Magic What If?: Volume 8
---
The ninth year of the show, eight whole seasons, seven main characters, six times in a row, five episodes from Season 8, four multi parters, three years of double releases, two volumes each, and one more release before the end of the show! It's that series which seeks to answer the fateful question "What if that episode had been written differently?"
There's only ten episodes to cover this time around, five from Season 8 and five from other seasons. This includes a redo, and a rewrite of two two parters, and some episodes that have been on the backburner for a while. Some other episodes will also be getting a touch up, and one will even be getting an interesting retooling to fit a possible idea. But which one that is will only be answered if you read the releases.
As always, the same disclaimer applies, the episodes rewritten are based on my personal opinion so please respect it. Don't get offended if an episode you liked is on the list here, or an episode you didn't like isn't. I'll gladly respect your opinions if you respect mine.
And of course, I mean no disrespect to Hasbro, the DHX writing and editing staff, or anyone who likes the episodes that appear here. The intent of this fic, like all of its predecessors, is for entertainment purposes only.
You can access the first volume from the main page of my account, and from there you can follow the links to see what episodes have already been rewritten in Volumes 1-8. To list them all here would take forever. Be sure to check them all out.
Chapters (10)