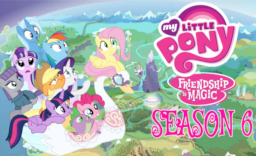 Source
This story is a sequel to My Little Pony Friendship is Magic What If?: Volume 4
---
Five times the rewrites, five times the speculation, five times the drama! It's here once again, that series which dares to ask the question: "What if that episode had been written differently?"
Since Season 7 is still ongoing at the moment, we've got episodes from Season 1, and Season 4-6 up for a rewrite, ten to be exact. They include one episode being expanded in a two parter, another taking place in a timeline with a different episode order, and even two bonus chapters involving a different character being the star. But what episodes will make the cut of this ten episode collection? Well, you'll have to read to find out.
Yet again, I must reiterate that all of the episodes that appear here and are rewritten are the result of my personal opinion, so don't get upset if an episode you like is on the list or an episode you didn't like isn't on the list. I'll respect your opinions, so long as you respect mine, and again know that you are not obligated to read any of these chapters if you don't want to.
And in case it was ever in doubt, I mean no disrespect to Hasbro, the DHX writing and directing staff, or the people who like the episodes rewritten here. The intent of this fic, like its predecessors, is for entertainment purposes only.
Curious as to what other episodes have already been rewritten? Be sure to check out volumes 1-4. You can find them below:
For Volume 1, click here!
For Volume 2, click here!
For Volume 3, click here!
For Volume 4, click here!
(Apologies for the image, again it was the best I could do.)
Chapters (10)