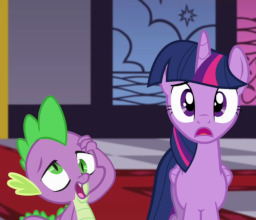 Spike realises there's a pretty noticeable gap in Twilight's otherwise encyclopaedic knowledge - and tries to fill her in. Confusion and embarrassment ensues (of course - this is Twilight we're talking about!).
(Teen rating and sex tag for discussion about sex and pony genitalia, no actual sex.)
---
EDIT: Featured on 19/3/19 to 23/3/19 - a huge thank you to you all!

EDIT: Sorry for the confusion, everypony - despite my attempts to explain to the contrary, the powers that be have decreed that the sequels to Spike Gives Twilight 'The Talk' aren't, in fact, sequels, and are instead chapters of the same story, in spite of this never being the case. So to avoid a ban from the site I have been forced to reupload them as chapters here.
Apologies for the confusion!
Chapters (4)