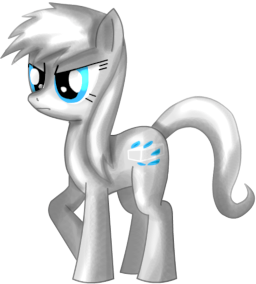 Part 1:From man to mare
Part 2:From man to mare: chaotic convergence
Part 4:
From man to mare: I love my mommy
Part5: From man to mare: Time to tell
It has been a year since the incident with Discord using Derry's broken mind to spread chaos across Equestria. It may have been short lived, but the adventure that Twilight and Cyclon had within "her" mind has awoken new feelings for Cyclon. Despite being a man at basis, having Silver's body has been nothing but trial and error. How will Derry deal with these feelings that he both appreciates and finds horror in when Celestia announces the end of his "exile"?
Perhaps Rarity will converge towards helping this growing relationship even when it looks more like "friendly" playing. There also seems to be a new stallion in town, one who is a good friend of the captain Bullseye of the royal guards. Where does he come into all this?
Naturally, Stalin the Stallion made that pic for me. Who else could've made it like this?
Chapters (9)