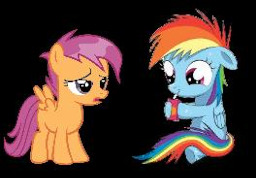 Scootaloo overhears Twilight talking about a time travel machine. She breaks into the library and travels back in time to meet her hero, Rainbow Dash, as a filly. It would have been the perfect plan if Dash had been anything like she expected.
Story prompt/Requested by: TheDarkPrep
Edited by: Selbi, Abcron
Part of my one-shot week.
Chapters (1)