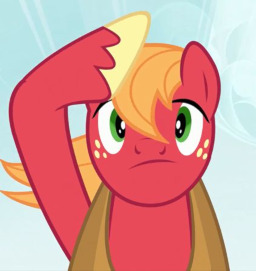 When Dash discovers her feelings for Big Mac, she realizes that no pony knows why he is so quiet. She sets out to learn where he is from and why he doesn't talk. Will the answers give her the courage to ask him out to Hearts and Hooves day?
Proofread by: Gage of Grandiloquence, Midnight Spark
Rated teen for suggestive themes.
Inspired by The Many Secret Origins of Scootaloo
---
Unbiased Reviews:
TheWaffler: I wasn't expecting Final Destination, Of Mice and Men, CSI Miami and Superman all in one chapter.
Loeden: Oh man, dat RP scene.. I couldn't breathe, from laughing so much.
TheWaffler: Twilight takes the phrase "knowledge is power" to whole new level.
kingtiger666: SONIC RAINGASM!
Chapters (14)