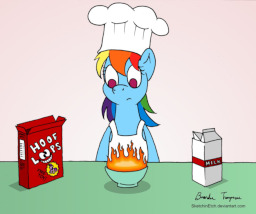 Source
Rainbow Dash isn't a traditional mare. She didn't care to learn how to bake cookies when she was little, or help her mother cook, and never wanted a doll to play with. She was a tomcolt from the moment she was born, acting more like a colt each day. While other little fillies played with their dolls and talked about secret crushes, she was challenging colts to races and beating them.
So when Big Mac moves in with her, how is she supposed to tell the farm pony who was used to home cooked meals that she didn't know how to cook?
Thanks to,
jszellmer for the edits! I know you must hate me at times.
KarmaDash for always being there for story bouncing.
SketchinEtch for the cover art!
Chapters (1)