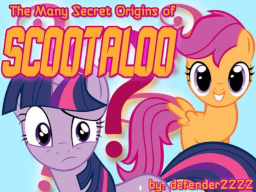 Source
Who is Scootaloo? Everypony knows about her present, but when it comes to her past there are as many different answers as there are questions.
Is she the love child of two star-crossed lovers? The last hope for the future? The child of a broken home? A mysterious figure fighting a war no pony knows about? Or is it something else entirely? Is she even a pony at all?
Twilight Sparkle decides to ask everypony in Ponyville and find out about Scootaloo...and the stories, rumors and gossip she gets will leave her wondering how the truth can ever compete with fiction.
My thanks to Page Turner for the new story cover!
Now has its own TVTropes Page!
http://tvtropes.org/pmwiki/pmwiki.php/FanFic/TheManySecretOriginsOfScootaloo
And has a featured page in the Non-Canon My Little Pony Funny Page!
http://tvtropes.org/pmwiki/pmwiki.php/Funny/TheManySecretOriginsOfScootaloo
Thanks to all my readers and fans for all the support and help I have gotten! I am truly touched.
Chapters (24)