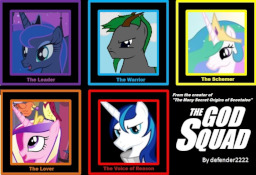 Source
Princess Luna is bored.
She spent a 1000 years on the moon and while she is happy to be back to her old self (even if she knows her evil scheme would have worked if it weren't for those meddling mares!) her sister refuses to let her do anything fun. .
The Princess of the Moon is fed up! She is going to go on an adventure! She is going to find Queen Chrysalis and punch that bug in the flank! And along the way she is going to fight bears, fall in love, explore strange worlds and everything else all the guide books say should happen on an adventure.
Too bad her sister (The ever calm and collected Celestia) has decided to tag along and bring their niece (the sex-crazed Cadence), nephew-in-law (the sane and rational Shining Armor) and brother (the grumpy OC/Oceanic Creature Tydal) along for the ride.
What happens when the gods go on a road trip? Chaos, insanity, and mayhem, of course!
(This is the spiritual sequel to "The Many Secret Origins of Scootaloo". While you don't need to read that story to enjoy this one, it wouldn't hurt to give it a glance to understand why many of the characters are the way they are).
TVtropes' Page Can be found here: http://tvtropes.org/pmwiki/pmwiki.php/FanFic/TheGodSquad
The sequel, The God Squad: Equestria's Most Wanted, will be out soon.
Chapters (40)