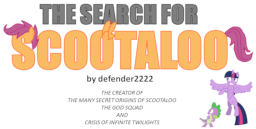 Source
This story is a sequel to The Many Secret Origins of Scootaloo
---
After everything that happened the last few months, Twilight has enjoyed some much deserved peace and quiet. But when Scootaloo disappears without a trace, the newest Equestrian Princess suddenly finds herself forced to lead the hunt for the missing filly. Aided only by Spike (and hindered by everyone else), Twilight must travel the globe and discover just where Scootaloo is.
Of course, that's easier said than done. Every pony seems to have an idea about what happened to Scootaloo and are ready to share their theories... whether Twilight and Spike want to hear them or not!
From the creator of 'The Many Secret Origins of Scootaloo', 'The God Squad', and 'Crisis of Infinite Twilights', comes the sequel no one asked for or even thought would happen (including said author!)
My thanks to CrowMagnon for inspiring this story. The rest of you can blame him as well.
Chapters (3)