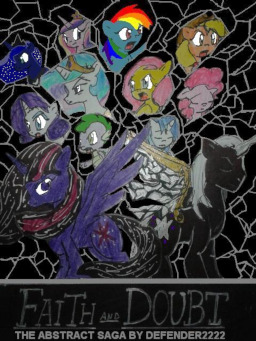 Source
There has always been a little voice in Twilight Sparkle's head, whispering dark musings to her. And until her brother's wedding, she has managed to push those bitter thoughts away and focus on the good. She forgives and forgets and holds onto hope.
But when her friends turn their backs on her and her brother cuts her from his life, Twilight finds herself alone, with only the little voice to comfort her.
And it is through anger and hate that has been repressed for so long that Twilight finds the power to rise up. Harmony and Friendship have only brought her pain and suffering. It is time for her to embrace her dark side. No longer will she worry about what others think. Twilight is going to live her life how SHE chooses: without friends, without family, without love and without harmony. She is going to cut loose, have fun, and screw what others think.
For her friends and family, it will soon become apparent that if they don't find a way to mend the damage they've done to the lavender mare...Twilight Sparkle might be lost to them forever.
Thank you to everyone that got this story as one of the Featured Stories here on the site!
The TvTropes Page can be found here: http://tvtropes.org/pmwiki/pmwiki.php/FanFic/FaithAndDoubt
Cover created by the amazing FerGarcia220
Chapters (23)