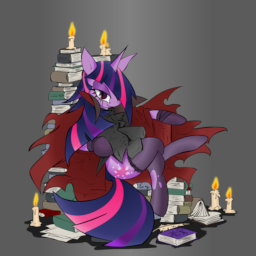 Source
The supernatural: Ghosts, zombies, werewolves, spirits... vampires...
Twilight Sparkle always thought that the supernatural was just a bunch of superstitious nonsense, just some scary stories to tell around a campfire. She couldn't have been more wrong.
After an occult ritual gone horribly right, Twilight finds herself among the ranks of these so called 'myths', whether she likes it or not. Due to the same force that changed her, dark shadows have begun to spread across Equestria, bringing to life these ancient fairy tales. And Twilight might just be the only one that can stop them...
For better or for worse, Twilight has been changed. Will she embrace this dark gift and become the hero Equestria needs, or will she eventually succumb to temptation and become the very thing she fights?
Chapters (12)