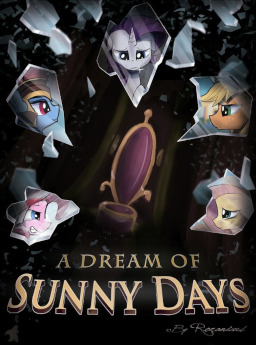 Source
When Princess Celestia is found dead, a new ruler must take the throne. Without the Princess's leadership, many opportunist factions find themselves free to act as they see fit. Until now, Equestrian politics had often been overlooked, thanks to the benevolent Princess of the Sun wisely presiding over them. Now, betrayal and secret plots run rampant in Canterlot's court. Five ponies are sent to the different corners of Equestria in an attempt to save their broken nation.
Special thanks to Galrion, Coldsilverd, and Striving for Harmony for proofreading everything and helping me brainstorm ideas.
I wanna thank my editor, Derpypaws, who's a great help for grammar and punctuation. He also designed and vectored the Captain Silvermane cutie mark.
The cover art was made by DarkFlame, here is his deviantart. Also, check out his tumblr ask blog.
Cutie Mark vectors by Hawk9mm, you can find his deviantart here. Scootaloo's cutie mark by Lahirien.
Also, I wanna thank Alptraum Mond and Throttlesky for extra tips and proofreading.
Chapters (42)