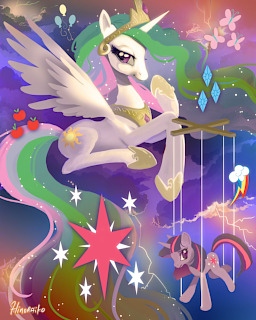 It has been ten years since the defeat of the Changling Queen, and Equestria is again at peace. Twilight Sparkle and the Elements of Harmony have reached their prime, and have begun to settle down. Love and life abound in Ponyville, especially for Twilight's friends, but she has nopony to call her own.
There is a reason.
A series of events lead to a horrible revelation, and Twilight is thrust deep into a terrifying web of secrets and lies. Her peace is over.
This time, however, she won't be fighting monsters or madponies. What she faces will be much, much worse.
Act One of Two.
Act Two is here.
Currently undergoing editing by the wonderful Mstar!
Chapters (44)