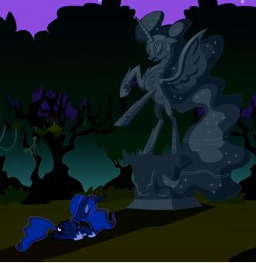 This story is a sequel to Stories in Stone, Luna's Royal Guard.
---
The Canterlot Royal Gardens: a complex prison housing some of the greatest threats Equestria has ever known, sealed in stone. But what happens when something goes wrong, and some of these threats are freed?
Twilight Sparkle and her friends are again called to defend Equestria from an attack that the Royal Sisters are unable, or too afraid, to deal with. But can six ponies raised in a time of peace be any match for creatures who knew nothing but war and conflict?
Perhaps the only hope Equestria may have lies in another set of the gardens residents: the Five Beasts of the Moon, Nightmare Moon's generals, the very ponies who helped her nearly destroy Equestria a thousand years ago.
[This is a direct sequel. Please read,
[ http://www.fimfiction.net/story/1918/stories-in-stone-lunas-royal-guard ]
before starting on this fic or you will be quite lost.]
Season 3 is not accounted for in this fic.
Tags: Action, Sad, Humor, Roller Coaster, Violence, Singing, Some Romance, 80's HBO late night sex scenes... also, nearly every pony is naked... like normal.
Chapters (33)