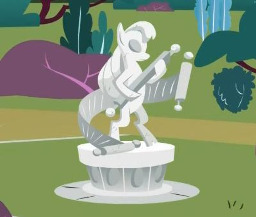 Twilight discovers the true purpose for the Canterlot Royal gardens, much to Princess Celestia's annoyance. Knowing her student will seek answers with or without her permission, the Princess gives Twilight a new subject to study, the story of five of the garden's occupants, their connection to Nightmare Moon, and the dark days of the War of Night.
Warning: Comments are encouraged, but spoilers are present in the comments.
Fic is currently undergoing a very slow revision. Revised chapters will have a (R) in the title.
I've also added chapter numbers for a bit more ease of navigation. Mostly on my part.
This is a project that I will slowly be working on Bringing my first major story up to snuff. I shall also be fixing plot holes and clearing up some issues that certain parts have that may contradict the lore later on.
This will only be worked on sporadically unfortunately as I need to be in certain mind sets to do this.
Original story was posted in 2011.
Tags: Action, Historical, Sad, Humor, Roller Coaster, Violence, Singing, Some Romance
Part 2 is here.
http://www.fimfiction.net/story/71261/stories-in-stone-memories-of-twilight
WOOOT featured on Jan 5th 2015 at 2:47 am, 4 years after it's initial publishing!
Chapters (55)