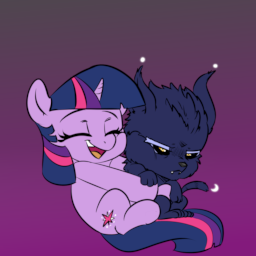 When Twilight Sparkle had the magical surge that cemented her place as Celestia's student, the amount of power she released not only hatched a baby Dragon, it brought forth something else. Something that shouldn't exist any more.
Something that has Celestia worried.
A fluffy puppy.
[Despite the gore tag it's rather light on that, and they have yet to make a lewd tag and there's a bit of that.]
Editing help by Lawlypops, ThatNoobpony and people in the comments.
Modoc is converting this story into a youtube audio format if you'd rather listen to the story. That link is here.
Cover art by marking
Season two is live here, Season 2
Chapters (122)