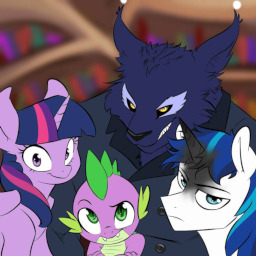 Source
This story is a sequel to Twilight Gets a Puppy, Season 4
---
Twilight Sparkle, her brothers, and their friends have just dealt with Tirek, saved the breezies and grown a castle out of a small treasure chest.
The Ponyville betting pool has never had bets this wild before on what the Sparkles will do next.
Still for once they would very much like a break from all the nonsense for a while. Of course the universe has other plans.
With unstable unicorns, a tree that gives missions, dating demi gods, another suitor chasing Rahs, Song Fishies return, wanted criminals, Yaks, Discord, Friendship summits, new shops, reworking spells, crossdressing, cutie- marks, time travel, concerts, feuding families, an invasion, and the edgiest unicorn mare you have ever seen, the Sparkles and their friends find there there truly is no rest for the wicked.
[ As usual I post my Slightly dirty tag here as while there is no clop or smut, it's hinted and and conversations tend to get a little filthy, also Cadence.]
Useing Ko-Fi to accept donations to get Fan art for the story. What art I have so far is also linked HERE!
TGaP now has a TV Tropes Page thanks to matt+s0101745, You can find that HERE.
TGaP also has a Wiki starter now thanks to Dragonoidsix seekers
Cover art by marking
Link to season SIX
Chapters (74)