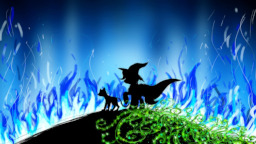 Source
This story is a sequel to Stormsinger
---
In wake of the assault on Starfall, Serale Everstar has agreed to her mother's wishes, and will travel the length of Equestria to pay respects to her mother's rival Courts. But burgeoning magical ability and the possibility of traitors around every corner have placed on the young Lady more stress than she could hope to bear alone.
Apprenticed to the Court Mage, Cobblestone, recently a cutpurse and recovering addict, is eager to begin her training in the arcane arts. But her own abilities have attracted the attention of old powers, not all of them with her best interests at heart.
Tasked with protecting his Lady at the cost of his honor, Vino Hedera is young and untested in the field of battle and the art of command. But all is not as it seems among his compatriots, and the greatest danger he faces may well come from within the ranks of those he should be able to trust with his life.
With the forces of the Shadow gathering, pursued by forces both foul and Fae, and unsure of who to turn to, these three ponies may have only each other to rely upon in the face of the most terrible enemy Equestria has ever known. It falls to them to prepare for oncoming war, one in which the stars may shake and the sun itself may fall from the sky.
Book Four of the Sunfall Saga. Book Three to be found here.
Chapters (35)