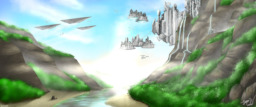 Source
It's your general HiE story. Human arrives, human is introduced, human adjusts, human falls in love, subsequent pony falls in love with human, marriage, the end. But what a lot of stories don't tell is that the human eventually dies. It could be dying on the field of battle, locked in combat with some immortal foe. Or maybe he slowly succumbs to the sands of time in the background of other, more important things. It eventually happens whether we like it or not.
But what happens after that?... Does he fade from the minds of his friends over time? Completely forgotten in all but a statue and an inscription in the royal gardens?
...
Or does he stay at the forefront of their thoughts? Forever remembered by his wife in a desperate attempt of find some way to bring him back to life while all those around her keep telling her to move on, "forgive and forget they say", "move on" they say.
"No" she said. "NO!" she yelled in their faces!
She will wait for all eternity if need be, just waiting for the day that she can have her love monkey back!
...
Well give it a couple thousand years of technological advancement, some descriptions and blueprints ripped off of his iphone, and a major problem that requires a very special approach and we've got ourselves either a recipe for success or a botched clusterfuck of epic proportions.
...
Welcome back Jacob...
Authors notes: I have seen so many good stories here, some that are more than worthy of big budget book publishers... And I want to be one of them. So it is with this that I ask you.
Don't use lube.
Be as critical and analyzing as you can. Spot everything you can that would make this story better whether it be better descriptions, better dialogue, the way a character reacts to a situation, ANYTHING AND EVERYTHING!
Cover art credit goes to this awesome guy.
Edit: Removed the Dark tag because nothing really dark actually happens, I just didn't know what it actually meant at the time the story was posted.
Chapters (9)