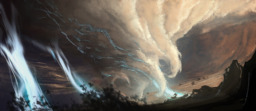 Source
This story is a sequel to Dusk's Dangerous Game
---
Twilight Sparkle, known to all but the three Goddesses as Lady Everstar, the Evening Sage, has ruled over her kingdom for nearly five centuries with all the wisdom and grace of which she is capable. Her lands are wild and exciting, the prospects good for those with brilliant minds and daring hearts. But now something has changed in the Evening Kingdom, something has changed the balance of power so profoundly that even Twilight herself cannot tell how events may unfold.
Across the ocean, an ancient evil is stirring, its dark hunger can finally be realized. Its servants are many, brutal, and cunning. They are found among the lowest of lows, and the highest of highs. With the balance of power so disrupted, it is at last time for their shadowy plans to come to fruition, to cast off the darkness and strike against the night.
It will take the power of goddesses, magic both familiar and ancient, and the most unlikely of heroes to save not only the Evening Kingdom, not only Equestria, but the entirety of Creation as we know it.
Sequel to Lines and Webs and Dusk's Dangerous Game. Knowledge of the previous stories is not needed, but reading them is, of course, encouraged.
Followed by Courts of The Magi.
Chapters (36)