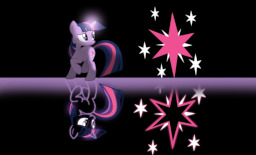 Source
The Great Tragedy. The night an era ended. The night the skies stopped turning. The night the Canterlot palace, along with all of its occupants, was utterly obliterated.
Nopony knows how it was done or by whom. But they do know that one unicorn stood at the center of that calamitous explosion, and they know that Twilight Sparkle survived where two immortals had perished.
Twilight awakens in a world a shadow of its former self, abruptly thrust into the fallout of a disaster she remembers nothing of. Faced with a foe that is perhaps more familiar than she might realize, Twilight must find a way to restore her broken world and carry on the legacy of her beloved princesses.
Huge thanks to my proofreaders Some Person (chapter 1-12) and RazerWrites (chapter 12-14). The story would have been much worse off without them.
Chapters (20)