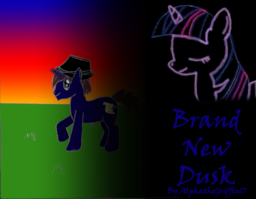 Source
Book II
Brought out of the darkness of solitude and into the light of friendship, Dusk returns once more to see and learn just what magic and wonder friendship has in store for him. Once thinking he was the most useless, pointless pony to ever exist, he has now found those who care for him and appreciate him for who he is, opening up new possibilities never even considered.
He will join the girls on their adventures and experiences with friendship's magic, helping them along as they go, having a few of his own and learning and discovering new aspects of himself that become open now friendship is known to him. Along the way, he will also make new friends, challenge his own beliefs and convictions once more and just discover how much more wonderful life is with friends as a part of it.
But that's not all that concerns him here. He needs to do something different about himself, but what? He has his colour magic, but where exactly did it come from and are there others he shares it with? Twilight may be his best friend but… what's this new feeling that he has when he's around her now?
All of this will be explored, as Equestria prepares to see a brand new Dusk.
Cover again by Quillin Words.
Chapters (27)