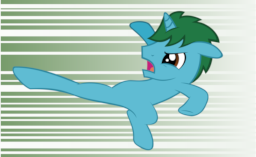 Azure Courage is a colt ready to move away from his home to find a relatively quieter life in Ponyville. However, tranqulity is the last thing he expects. For three years, possibly against his better judgment, he has followed the legend of "Mare in the Moon" to an "M" and has met with disappointment during each consecutive Summer Sun Celebration. The cyan colt is on his last leg when it comes to believing it.
Though his cousins have taught him what they know about free-galloping and martial arts, Azure is more adept at thinking on his feet. As he prepares to move out, the poor colt has no idea what awaits him when he completes his move...
---
*Adaptation of the canon with OCs involved, does eventually get more original than this*
*Cliches*
Cover image drawn by friend. Will make it able to involve the other main characters later.
Chapters (50)