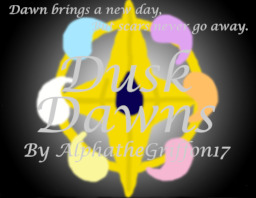 Source
Book IV
Dusk used to think he was the most unimportant, useless pony that had ever lived. He didn't think that anypony would accept him and he would always be alone, save for one. How wrong he was. With the lord of chaos sealed away once again and his true destiny discovered, to say Dusk has come a long way from where he began would be an understatement.
Now he's the Seventh Element, new responsibilities as well as new opportunities have been opened up to him. An education, under one of the most powerful beings in Equestria has begun, allowing him to expand upon his magic, if he can handle it. At long last, he has taken his his friendship with Twilight to the next level, but that was only the first step. Now, they both must learn not only the magic of friendship, but of romance too.
But not everything is as perfect as it appears. Blackhole Doom may be gone, but his deeds and memories remain in Dusk's mind. Can he cope with the scars his darker self has left? Will he and his friends be able to confront them or will he keep them locked away? A story is told of a Fallen Soul, a fallen hero from time long past. But how much of it is actually a story and could it be something more?
With all of this, meeting new ponies, the good and the bad, new lessons to learn and new adventures to be had, it is true to say that Dusk... has finally dawned.
Cover again by the marvellous Quillin Words. Thanks!
Chapters (41)