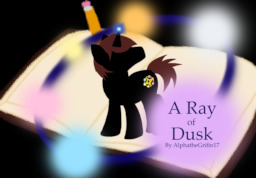 Source
[Featured 2/2/2015! Oh yes!]
Book VI
A month has passed since the Invasion of Canterlot. In that time, Dusk and his friends have continued to live peacefully in Ponyville. Recent revelations have shaken them, but they stand firm, their friendship and love as strong as ever, if not stronger. They help each other, lend their strength and remain united by the magic they all share. The threat is defeated, as it always is.
But these threats are never truly gone. They wait, they fester, they grow... they rise. Now, they have risen once more. Growing shadows creeping from the North. Vows of vengeance rising from the Pits. Roars of rage echoing across the land. Once again, they must stand together and face them, strengthened by their ever-growing friendship.
But these ancient enemies aren't the only things that need to be contended with. Dusk and Twilight continue to explore their relationship, but what will it lead to? They know of Ray's terrible secret, but how will they ultimately cope? What are these whispers of Twilight's destiny between the Royal Sisters? Can their friendship withstand the trials they will soon face?
However dark the shadows may be, one thing that's certain is that there will always be a Ray of light shining in the Dusk.
Best cover ever by Quillin Words!
Chapters (36)