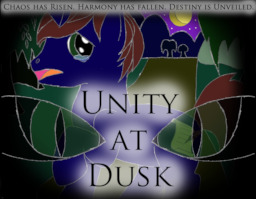 Source
Book III
Everything looks to be going well for Dusk. He has great friends, a good life and a mare he would give his heart to. It seems like, after all of this happiness, nothing could possibly go wrong and things can only get better.
But as he learns, things have to get worse before they get better. And they do, for after a thousand years trapped in stone, Discord is freed from his entrapment, to reign chaos over Equestria once more.
The only one not connected the Elements of Harmony, Dusk ends up being left behind for his own safety, seemingly useless in the fight. But that changes when Princess Luna sends him into the Everfree Forest, searching for something that might help them. Can he find this strange artifact, if it even exists? What exactly is it? What is this prophecy about?
Discord also starts to take an interest in him and soon, through the spirit's magic, Dusk must face his greatest challenge yet, an enemy thought to be non-existent: his darker side, created by the spirit of chaos.
Can Dusk survive and discover his destiny or will his darker self take over forever?
Cover again by the great Quillin Words. Thanks man!
Chapters (25)