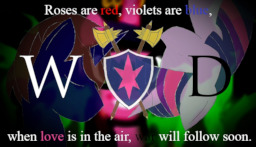 Source
Book V
It seems like a perfect day for a wedding. With the sun shining its brightest in the sky, birds singing their ballads in the trees and emotions running high, nopony could even begin to argue with that assessment. When Dusk and his friends are called in to help with the preparations, it looks like it could be even better. A time for celebration and for merriment.
Yet all of this is calm before a storm and it will be a great one. Underneath all the cake and the flowers and a gowns, a threat looms over the kingdom. A threat of invasion, which will soon be realised on this happy day. Sparked by greed and hatred, Chrysalis and her hive are coming, their numbers great and their sights set on conquest. First, Canterlot, then all of Equestria.
When they descend, it is the Elements of Harmony who must rise to defend their home. Dusk must take up arms against those who would do them harm. But after the scars that still plague his mind, can he bring himself to hurt another being, even an enemy? Will he be able to take up the banner and stand up to the Changelings or will he succumb to his lingering fears? And why can't he shake the feeling there might be something more to this, that his lurking foes might be orchestrating this?
All that is known is that Equestria will soon darken for a warring Dusk.
Cover done once more by the irrepressible Quillin Words.
Chapters (30)