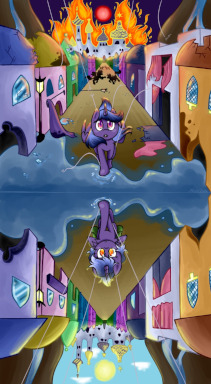 Some memories never fade.
For Rainbow Dash, there's too much truth in that statement. The war, the fall of Cloudsdale, and especially the death of her closest friend all remain as vibrant in her tired mind as if it were happening to her for the first time.
Meanwhile, another has taken a forbidden road to escape the darkness in her past, and in doing so, she may plunge Equestria into darkness once again.
With everything on a silent path to destruction, the only one able to stop it may be too conflicted with her own feelings to save her home, her friends, her country... herself. Will she even be able to reach the answers hidden in the shadows?
After all... some things are best left forgotten.
This is the sequel to "The Eversleep". It is not necessary to read that story first.
Cover art commissioned by DragonMew: http://dragonmew.deviantart.com/#/d55frrj
Chapters (35)