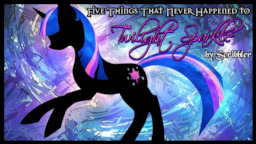 Source
Click below for two different audio versions of this fic.
Five choices that Twilight made in the show. Five ways she could have made them differently. Five sets of consequences. Five sets of regrets. Five points in time. Five things that never happened.
Featured on EQD - 15th April 2013
[Utilises an old fanfic challenge that can be found here.]
Full cast audiobook now available here.
Or if that doesn't float your boat, a regular audiobook version is available here.
Fanfic Review video by Emerald Comet can be found here.
Chapters (1)