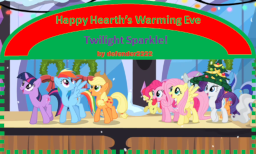 Hearth's Warming Day.
This day, one of the most magical of days, is about family and love and togetherness and remembering the bonds of friendship.
It is also about demanding presents, showing up your family, freaking out over the tiniest detail and fighting the rush of a thousand other ponies that seem to want to do nothing more than ruin the holiday for everyone else.
This year, Twilight is getting to host her family's Hearth's Warming Day Dinner and she wants everything to be perfect. But as she sees what the holiday does to her friends and those around her, Twilight begins to lose the spirit of the season and wonders just what good is a holiday that seems to turn everypony into jealous, greedy monsters.
Join Twilight in this look at what modern life has done to the holiday season and how easy it is to reclaim the magic back.
This story is set in the Scootaverse (Which includes The Many Secret Origins of Scootaloo and The God Squad). Neither of these stories are required reading but it will help.
Chapters (10)