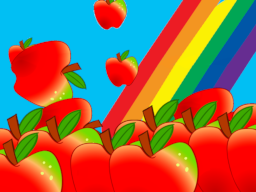 Another day, another crash. Hey, being the best means taking some risks, but this time Rainbow dash is ground bound for three whole days! What does she do? Stay at Sweet Apple Acres until she recovers, of course! One thing though, AJ's out of town.
Ok, so this was only supposed to be a one chapter practice piece, but it spiraled out of control. There are now something like 15 completed chapters and a complete side story with an additional 15 chapters. I can't believe I did this. Rated teen for a fight and some misunderstandings, but I'm really just playing it safe. (I don't want to be banned on my first upload!)
First person(pony?) View, alternating between Rainbow and Mac.
Artwork (c) me, Just some stuff I slapped together. I'll give each fiction a proper piece of art later.
Also, if I get 3,000+ views, I'll make a piece of art for every chapter.
Chapters (17)