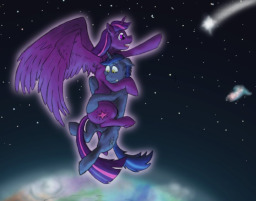 Source
Five thousand years after leaving her planet, the Alicorn Twilight Sparkle travels the depths of space on personal quest. But she soon finds that this mission is one that she can not accomplish on her own.
Twice before, Astral Plane has run afoul of powerful beings known as Celestials. When it happens a third time, he finds himself dragged into one mare's search for answers, and her friends.
Now on a hunt for targets spread throughout the galaxy, he must find ways to survive unexpected dangers, lead a group that grows crazier with every passing day, and learn to live and work beside the embodiment of everything he despises.
From the Author of the slightly Popular Fic "My Little Dragon," comes a Brand-New, Action-Packed, Science-Fiction Adventure. Tags will be changing as the story grows, and the cast and tone shift and change. Where will it all end up? Read it and see!
Chapters (102)