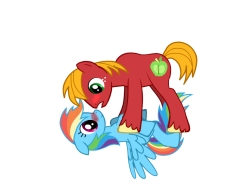 A chance meeting in town, an exchange of glances, and the beating of two ponies hearts...
Rainbow had never given much thought to finding romance, or even going on a date with a pony. After a chance meeting in town she finds herself thinking of a life with a simple farm Stallion; One Big Macintosh. At the same time, Mac finds himself thinking of the rainbow maned mare.
Read on and learn of the two as they trot a path of love...
And now for something far less formal. It's a romance fic, Rainbow Dash and Big Macintosh. Feedback appreciated. MINOR INAPPROPRIATE CONTENT: Alcohol, suggestive situations, more alcohol, and profanity.
Chapters (1)