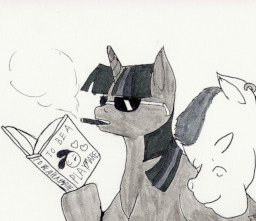 Being a princess has its own perks; you get prestige, power, a fancy castle and all the royal accouterments. But there is one other thing a princess can do which Twilight decides to pursue in depth; that thing being the right to form a harem of studs waiting at her beck and call.
Something I wrote in a short amount of time on a whim. I hope you enjoy it, questions, comments and constructive criticisms are welcome and appreciated. Have a great day!
Cover art by yours truly!
Chapters (1)