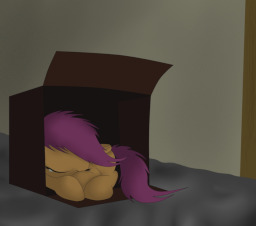 Source
Scootaloo grew up at an orphanage ran by Gerda. The old hag had clipped Scootaloo's wings last time she tried to escape. Now, under cover of darkness years later, she has finally escaped and boarded a train to Ponyville. Will she stop running from her past long enough to enjoy her new life?
A slice of life story that will follow Scootaloo from orphan to daredevil, from the Cutie Mark Crusaders to Dash teaching her to fly, and beyond!
---
This story is lightly self-edited and I'm aiming for a pace of a short chapter a day. It keeps me busy while my editors work on my other, more "serious" stories
Warning: This story contains way too many cheesy pop culture references, and horrible title puns. They're my guilty pleasure.
Chapters (38)