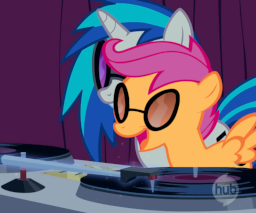 Source
Scootaloo was alone. She had been for her whole life, but even a rejection from her idol, Rainbow Dash, hurt so much.
Now, will she stay alone? Or will everybody's favorite DJ pony give her the love and care she deserves?
And... this is what happens when you spend a whole day reading stories about two of your favorite characters.
And why do I always have to write sad things? Oh well. Enjoy! : )
Awesome pic by Berry Punch!
Chapters (4)