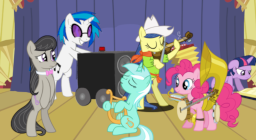 Octavia has finally been promoted to first chair, unfortunately for her, that chair is in the new (and as of yet unformed) Royal Ponyville Orchestra. Now, the best cellist in Equestria (Her words) is being sent to the cultural gulag of Ponyville (Also her words) to form and lead the Royal Ponyville Orchestra to greatness (Princess Luna's words).
Now has a sequel, Princess Luna's Academy of the Arts and Sciences.
And an online reading.
Credit goes to jlm123hi for arranging the cover art
Vectors used:
The stage
Vinyl
Lyra
Fiddlesticks
Octavia
Bonus: Have some fan art made by GamingMelody I found when I accidentally typed my username into Deviant Art's search tool instead of logging in. It's cool someone liked my words enough to draw them, and I hope anyone who does so in the future will send me a link so I can plug them in whatever way I can.
Chapters (30)