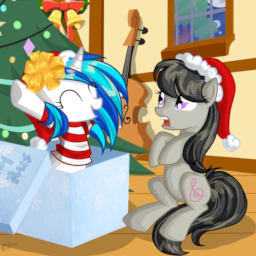 Source
This story is a sequel to Foal Fever
---
You try having a daughter who thinks the only way to get anywhere is by flying. And a pregnant wife who can move slightly faster than continental drift. Oh! And before we forget, let's make sure your wife is also the pony with the magic to keep your daughter from flying or running or getting into various other shades of trouble.
Can you imagine how exhausting that would be? Try to, because then you might understand just why I listened to Vinyl's idea. Going around, telling your foal Krampus will give you coal if you're naughty? That's not too far removed from the usual Santa Hooves story, and if it can buy me a few days of peace and quiet before Hearth's Warming? Well, I'll take what peace I can get.
---
Thanks, as always, goes to EquesTRON and Seether for editing my story. I know I couldn't get this story out before Christmas, but I still managed to publish it in the twelve days of Christmas, so... you know, it still kind of counts.
Chapters (1)