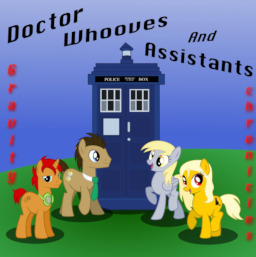 This story is a sequel to Gravity of the Situation
---
The great Gravity Queen, Kat Shifter, the scourge of her Equestria now faces the greatest challenge of her immortal life: living as a pony!
With an eccentric earth pony from another world, a bubbly pegasus, and a neurotic unicorn by her side, Kat will search the universe over looking for a way back to normal. Adventures, monsters, and aliens all waiting along the way... this might take a while.
Cover art courtesy of Equiniox _
With assistance from Golden Script
Theme Song: What the Hell by Avril Lavigne
This story is made in tribute to the Doctor Whooves and Assitant radio show on YouTube. I own no rights to the series (or either Doctor Who or MLP: Fim) and is not intended for any infringement.
Chapters (1)