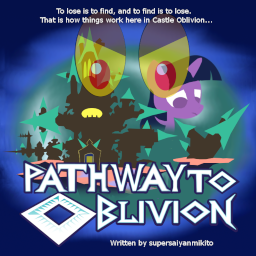 Kingdom Hearts: Chain of Memories Crossover
*Note* Takes place sometime after the Season 3 Premier, "The Crystal Empire."
What would you consider 'true' friendship? Friends play with each other, friends laugh with each other, and friends are there for each other. But how would you know that anyway? Its not like you were ever a true friend...
A simple camping trip with Twilight and friends turns bad when Twilight's friends go missing in the middle of the night. She is lead to a mysterious castle in the middle of nowhere with hopes her friends are inside. Little does she know, she is only a puppet for their evil plans. After all, one cannot hope to escape Castle Oblivion...
Chapters (6)