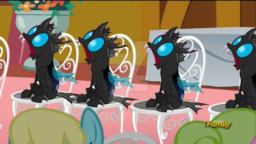 Source
This story is a sequel to Celestia Loses Her Marbles
---
For the past six months, Thorax and Pharynx have been swimming in the best munchies Twilight could buy. But their contract has expired, and the two siblings must venture forth to acquire more snacks to fuel their kush filled dreams, and word on the street is that the Royal Vault in Canterlot holds the seriously good shit.
Will they be able to stomach the adventure, or will they taste scrumptious defeat?
Special thanks to Scaramouch for editing and proofreading!
Chapters (1)