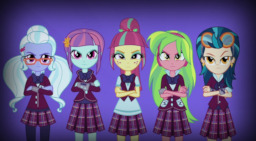 Source
*Taking place during and after the events of Legend of Everfree*
A month has passed since the Friendship Games. Old stigmas are finally breaking down at Crystal Prep but Sunny Flare isn't convinced that these current events are natural. Naturally, she decides to investigate herself.
But upon certain discoveries that she and eventually the rest of her friends uproot, they realize they may have bit off more than they could chew. However, they do happen to know two people who they consider "magical experts".
---
Edit: I know this is late but I can't believe this story actually got featured. Thank you very much!
Chapters (24)