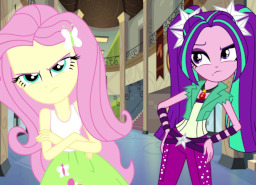 After their defeat at the hands of the Rainbooms, the Sirens wanted to make a break for it, leave Canterlot, and regroup someplace else.
But with the authorities now onto them, that isn't an option.
Faced with being sent to juvy or worse, an orphanage, the Sirens are given an alternative they don't particularly like:
Being "rehabilitated" by their enemies.
At Principal Celestia's suggestion, the Sirens are separated from one another, and each is sentenced to live with one of the Rainbooms. Adagio is sent to live with Sunset Shimmer. Sonata is sent to live with Pinkie Pie.
Aria is sent to live with Fluttershy. One of these girls is in for a whole lot of trouble.
(A "dueling stories" fic exchange with Mirai-chan, inspired by Andrea Libman and Diana Kaarina playing twin sisters on Strawberry Shortcake's Berry Bitty Adventures.)
Rated teen for language, innuendo, and hygiene topics.
Chapters (3)